Procedure on Tracking to know the Banglarbhumi Mutation Status at Citizen Services in banglarbhumi.gov.in Website….
Property mutation is a very important process whenever you are carrying out any legal transactions involving land or property.  Through mutation, the new owner of land or property can be able to change the revenue records on his name. Once a piece of land or property has been mutated, each detail will be updated in the revenue records. Civic bodies like the Municipal Corporations usually maintain these records whenever you update them.
Citizens of West Bengal can now access the mutation status service online thanks to the Directorate of Registration and Stamp Revenue Website, West Bengal. This website operates 24 hours a day hence making it easy for residents to use this service at any time of the day. Furthermore, you can access this service from any particular location as long as you have an internet connection.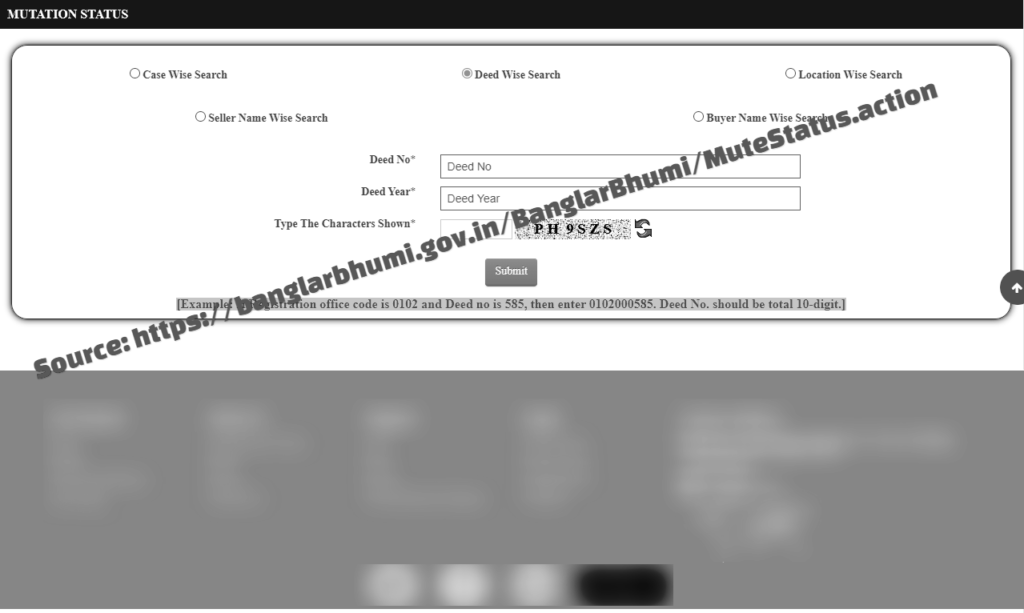 Mutation Status Tracking in banglarbhumi.gov.in Website
Any person who wants to access this service online will have to make do with the simple guide given below.
On the search bar of your browser,enter https://banglarbhumi.gov.in. This is the official link for accessing the Directorate of Registration and Stamp Revenue Website, West Bengal.Press the "Enter" button on your keyboard after typing the above link correctly.
Once in the website, click on"Mutation Status" option which can be seen clearly from the "Registration of Deed" menu
A dialogue box will appear on your screen. Click on "Ok" to move from the site to a new page.
A new tab will open on your browser redirecting you to the Land & Land Reforms Department website.
Here, you will have to place your mouse cursor on "Citizen Service" option. This action will generate a drop down box containing options like Mutation Status, Know Your Property, RS-LR information and Land Classification.
Click on "Mutation Status" option.You will be redirected to a new page on the site from where you will have to select one of the two options i.e. Case Wise Search or Deed Wise Search.
When using "Case Wise Search" you will have to fill in details like District, Block, Mouza and Case Number.  People who are using the "Deed Wise Search"option will only have to fill in the Deed Number and Deed year.
Click on "Submit" button after filing in every detail correctly.
You will now be able to see your mutation status online without facing any difficulty. To download the mutation status, click on "Download" button. You will then have to select the location for saving this file.
Click on "Save" once you select the location.
You can also print the mutation status for future reference. To perform this action you will have to click on the "Print" button.
Remember, you must have a fast internet connection if you are to check you mutation status within the shortest time possible. Failure to this, you will have to cope with slow surfing speeds that can sometimes be very frustrating especially if you are in a hurry.