Process on Checking Mouza Map Request under citizen services tab in banglarbhumi.gov.in Website
WB state ranks among the first Indian states to formulate an online land record portal. This initiative curbs cases of fraud, land grabbing and loss of land records. The state government eased the state citizen's efforts of visiting the land offices. Banglarbhumi is the legal website portal launched for all citizens in West Bengal. The site contains all land records in terms of district wise and whole state.
The portal is overseen by the land department which is land and reform. The department works with the Directorate of land records and survey where they ensure the website is well updated and contains all legal data. The site is open to all citizens though one has to sign up to get the login details.
https://banglarbhumi.gov.in  is the official link and works round the clock. The portal contains important information ranging from land owners data, location, land mutation and land reforms. WB citizens have the right to check the maps of the plots.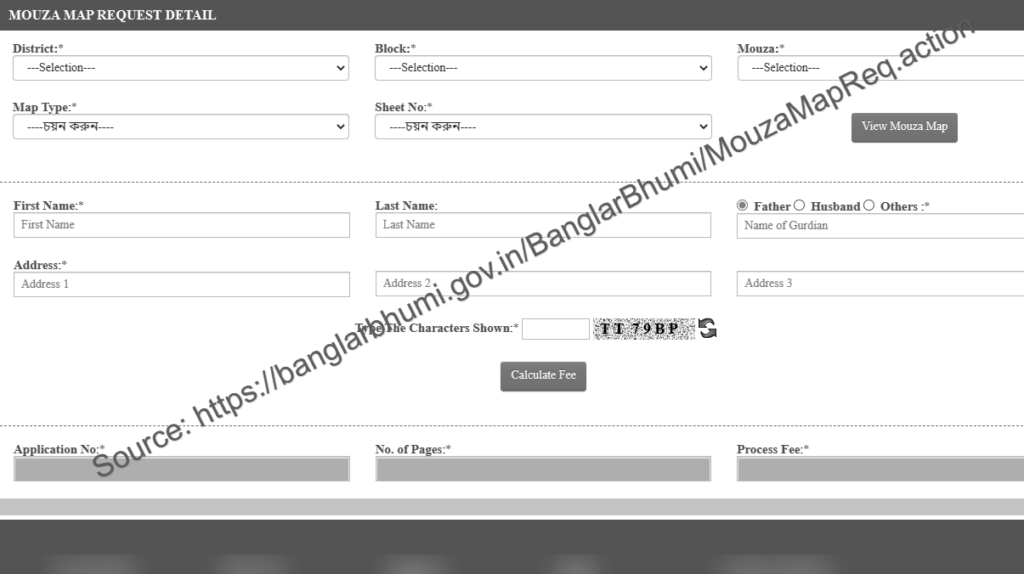 This website comes in handy for the citizens as they can access the site throughout. Thanks to the state government land owners can get information at any given point. Individuals who need to access the map of a plot need to sign up and also have the official number of plot/Mouza number.
How to check Mouza map request using the banglarbhumi.gov.in
Map request are part of the land record details, any land owners or citizen can request and get full information from the website. The land owner needs to follow few steps below.
Navigate to the official web page: http://banglarbhumi.gov.in
The page will open a homepage contain different tabs. Select the option indicated "service delivery"
On click the option a new drop down menu will open, here the services on ROR request, plot map request GRN request search will show under the option.
Now pick on the choice 'Mouza map request'
Proceed and key in the district, block and the Mouza on the given options.
Enter the plot number of your land.
Next key in the personal details and the login information starting with your name, mobile number, email address and guardians name.
Recheck the data entered to avoid mistakes which will lead to wrong information being produced.
Key in the captcha code given on the screen.
Continue by selecting on the calculate fee tab which is next to the personal information.
The payment should take place online with the net-banking methods.
The system will send a verification message on the screen. Note if this kind of message doesn't appear one shouldn't worry but use the request GRN search tab. Here you can confirm about the payment you just did.
Citizens or the land owner can visit the nearest land offices for legal payment. They can confirm the payment using the Banglarbhumi website.
With this the site will give information on the map and any other land request given. Banglarbhumi holds a lot of information which gives relief to both government and West Bengal